Who can legally obtain an Arkansas Concealed Handgun Carry License?
Are you a citizen of the United States?

If no, are you a permanent legal resident of the United States?

Have you been a resident of Arkansas continuously for at least ninety (90) days?
Are you at least twenty-one (21) years of age at the time of signing this application?

If no, are you at least eighteen (18) years of age and a current or former active duty member of the United States military?

Do you desire a legal means to carry a concealed handgun to defend yourself?
If you can answer YES to these questions and can pass a federal background check, then this course is for you.
If you are unsure for any reason, please contact us and we will be glad to help.
Avoiding Victimization
In this section we will cover ways to minimize the possibility of criminal attack, levels of awareness and mental readiness.
Laws
This section covers the laws regarding the use of a handgun, concealed carry laws and rules of criminal procedure.
General Firearms Information
This lesson is a refresher on basic handgun information, shooting your firearm and general safety rules.
Application Process
This final section of the class covers the application process.
Live Fire Range Qualification
Students will be required to complete the following live fire range qualification:
3 yards
5 rounds two-handed
5 rounds dominant hand
5 rounds non-dominant hand
5 yards
5 rounds two-handed
5 rounds dominant hand
7 yards
5 rounds two-handed
*Students who need a firearm may rent one from us for an additional fee. Contact us for more information.
Benefits of Taking Our Class
*Free black powder prints for students who have fingerprints rejected for any reason!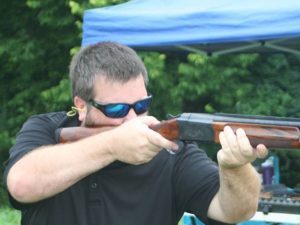 AR CHCL #15-1143
NRA Certified Instructor
NRA Chief Range Safety Officer
AR CHCL #16-1223
NRA Certified Instructor
TWAW Certified Instructor
NRA Chief Range Safety Officer
What others have said about our class
"I felt this course was presented very professionally. The material covered is easily understood and presented in an orderly fashion[.]"
"...everything was beneficial to me. I learned a lot and was very happy."
"Paul and Shannon were very friendly. It was a comfortable surrounding. [They e]xplained all [the] information very well."
"All parts [of the class] were interesting and very well explained. Very professionally done."
With your Arkansas Concealed Handgun Carry License, you can carry a concealed carry handgun in the following states:*

  Permit Honored In:
Alabama, Alaska, Arizona, Colorado, Delaware, Florida, Georgia, Idaho, Indiana, Iowa, Kansas, Kentucky, Louisiana, Maine, Michigan, Mississippi, Missouri, Montana, Nebraska, Nevada, New Hampshire, New Mexico, North Carolina, North Dakota, Ohio, Oklahoma, Pennsylvania, South Carolina, South Dakota, Tennessee, Texas, Utah, Vermont, Virginia, West Virginia, Wisconsin, Wyoming

  Permit Not Honored In:
California, Connecticut, District of Columbia, Guam, Hawaii, Illinois, Maryland, Massachusetts, Minnesota, New Jersey, New York, New York City, Oregon, Puerto Rico, Rhode Island, Virgin Islands, Washington, American Samoa, N. Mariana Islands
*This map is current as of January 17, 2017 and is subject to change. It is your responsibility to stay up-to-date with the laws regarding concealed carry. As a student in our class, we do our best to keep you up-to-date with law changes.
FREQUENTLY ASKED QUESTIONS
Is my concealed handgun carry license issued in another state honored in Arkansas?
Yes, but you are bound by the Arkansas concealed handgun carry law and rules. For a current copy of the Arkansas concealed handgun carry law and rules, please CLICK HERE.
How do I know what states honor my Arkansas concealed handgun carry license?
You will need to contact the state to which you intend to travel to make that determination. It is the individual responsibility of each Arkansas concealed carry licensees who may travel outside the State of Arkansas to determine whether their license is lawfully acknowledged within other out of state jurisdictions.
If I am from another state that allows open carry of a handgun with a license, may I open carry my handgun in Arkansas?
No. Arkansas will honor the license issued by another state but the person will be bound by the Arkansas law and rules which require the handgun to be concealed.
If I take this course am I guaranteed to get the license?
No. We guarantee that this course meets the requirements set by the state of Arkansas. You will need to submit the proper paperwork to the state and pass a background check before you will be issued your license.
How long will it take to process my application?
The law allows up to four months for ASP to process the application. Things that may cause that time limit to be extended:
If fingerprints are not classifiable and must be resubmitted
Having incomplete criminal history information
Not submitting all necessary information, such as proof of citizenship for persons born outside the United States
Training page expired, incomplete or not signed
Not promptly responding to requests for further information from ASP
How long is my license valid?
Arkansas Concealed Handgun Carry Licenses are valid for a period of 5 years.
How do I check the status of my application?
To check the status of your current concealed handgun carry license application, please CLICK HERE.
How much will it cost?
Our class is $75 per person and we will provide you everything you need to submit to the state.
State fees (due seperately) are:
New License (age 64 or younger) = $142.11

(Includes on-line application and background check fee.)

New License (age 65 or older) = $90.61

(Includes on-line application and background check fee.)